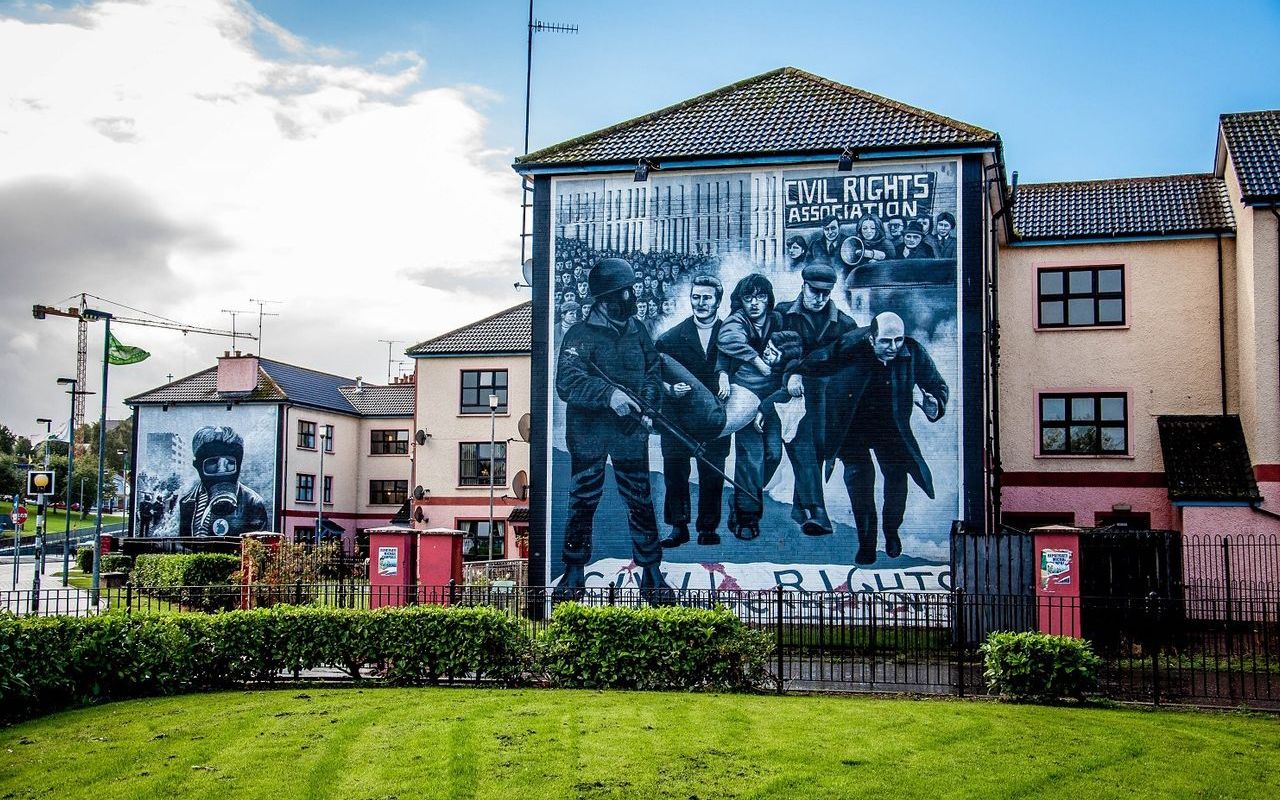 Attractions in Derry
Check out our great list of must-see attractions for Derry and the surrounding area.
Attractions
17th Century Walls
Take a walk around this intact 17th century enclosure which includes seven gates and twenty-four restored cannons. Derry is the last remaining walled city in Ireland making the walls a must-see attraction for any visitor.
Attractions
The Guildhall
Fashioned in neo-gothic style, the Guildhall is one of the most striking buildings in the North West. Originally built in 1887 by The Honourable The Irish Society, the Guildhall is free to visit and offers an immersive and interactive tourist information point, cultural spaces, a new cafe area, and a wealth of local historical information.
Attractions
The Craft Village
A real step back in time and a hidden jewel in Derry's crown. Experience 18th and 19th century Ireland and enjoy a mix of eclectic restarants, cafes, and artisan craft shops selling beautiful handmade local products.
Attractions
World Famous Murals
This series of murals by local artists form a graphic record of the Bogside and the troubled history of its people. The twelve murals tell the story of the Troubles, and the political, social and economic struggle of a people in conflict with their neighbours and countrymen.
Attractions
Free Derry Corner
Preserved as a national monument when the row of houses that it was attached to were demolished in the 1970s, this gable wall represents local nationalist resistance that created a no-go area for police and troops at the height of the Troubles. The slogan 'You are now entering Free Derry' remains as a reminder of this period and the lives lost on both sides.
Attractions
St Columbs Cathederal
A truly breathtaking gothic cathedral set within the city walls. Steeped in siege history, the Catherdal's porch houses a hollow mortar shell fired into the churchyard during the Great Siege of 1688–89. Inside the shell were the terms of surrender.
Attractions
Riverwatch Aquarium
Aquarium
Family-friendly
Kid-friendly
Great for little kids and big kids alike, the Riverwatch Aquarium brings to life the tidal habitat of the brackish Lough Foyle waters which support over sixty species of fish. Located on the outskirts of the city, admission is free.
Attractions
The Quiet Man Craft Distillery
When it opens its doors in 2020 the Quiet Man Distillery will be the first new distillery to open its doors in Derry for nearly 200 years. Set right in the heart of historic Derry this brand new, state-of-the-art distillery promises to bring whiskey home.
---
Book direct for our guaranteed best rates
Book directly with us to ensure that you get our lowest available room rates and to take advantage of the promotions only available on our website.
Check Availability